GARDEN BLOUSE IN Tresco (Bright)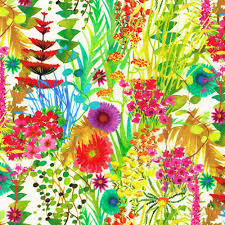 GARDEN BLOUSE IN Tresco (Bright)
The perfect easy blouse for summer. This top has capped sleeves, and shirring in the front.
The Tresco Liberty print is from a watercolour study of a selection of flowers, ferns and succulents from the windswept sand dunes and landscaped borders of the Abbey Garden (on Tresco Island, England) it represents the rich collection of plants gathered from around the globe.
Finished with french seams.
We recommend cold water wash (machine or hand) and hang dry.
This Design created by Liberty's in-house studio in 2008 is based on a mixture of the flowers of the Mallow shrub and sequins.

Made in the USA of 100% cotton fabric from Liberty Fabric. | Sizing